Michael Burrows
B.A., B.Sc.(Hons), M.Sc., PGDipClinPsych
Clinical Psychologist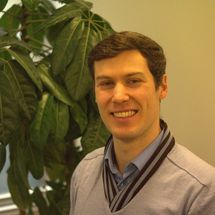 I work to obtain the best result for clients' psychological health utilising time efficient methods, whilst ensuring a comfortable experience. ​ I'm passionate about the psychological mechanisms of our human minds and quick to offer insights and strategies which may assist in breaking the bonds of a negative cycle in someone's life. I have an appreciation of research and always have a few fun psychological facts and figures up my sleeve.
Training
Michael completed his training at Wellington's very own Victoria University where he completed a Bachelor of Arts in Psychology, a Bachelor of Science with Honours in Psychology and a Master of Science in Psychology. He then went onto complete his Postgraduate Diploma in Clinical Psychology and has also undertaken extra training in Eye Movement Desensitisation and Reprocessing (EMDR) therapy. Michael is registered with the New Zealand Psychologist's Board as a Clinical Psychologist. He is also a member of the New Zealand College of Clinical Psychologists (NZCCP) and the Association for Contextual Behavioural Science (ACBS).
Experience
Michael has become a specialist in the assessment and treatment of anxiety disorders. Previously, he worked with the Phobic Trust of NZ in their Wellington Anxiety Disorders Clinic. Additionally he has also worked in private practice and clinical settings providing treatment, predominantly for anxiety and mood disorders, as well as neuropsychological assessments for children and adults. He has experience with generalised, social and health anxiety, specific phobias, panic, and PTSD, as well as OCD and trichotillomania. As part of his training, Michael worked in a hospital community mental health team providing assessments and treatment for children and their families suffering from a range of mental health difficulties. He is trained and experienced in Triple P (parent-based intervention for behavioural difficulties) and family-based group interventions for the treatment of anxiety (notably the "Cool Kids" Program).